I enjoy long romantic walks… through the flea market.
For those who have a love for all things quaint, chippy, vintage, retro, industrial, rusty, galvanized, architectural, & farm fresh, JUNK JUBILEE is a show you will not want to miss! Our vintage market takes place in the Varied Industries Building, 110,000 sq ft and is filled with more than 100 vendors from many states who share your passion for saving the historical artifacts from previous generations.
The Spring show is the last weekend of April and finds everyone ready to get out of the house and start off the junkin' season! Vendors who have been collecting merchandise all Winter typically like to decorate their booths with a Spring theme and you may find many vintage gardening items. JUNK JUBILEE is a great place to find some new old items to decorate your home for the warm season ahead!
JUNK JUBILEE JINGLES kicks off the Holiday season in the middle of November. It is a fantastic place to find someone a special gift. Don't wait to buy last minute gift cards when you can buy a meaningful or whimsical gift that is a one of a kind item brought to the show by a small business owner! While you may find some vintage Christmas items, the majority of items are just great finds. Many vendors like to decorate their booths for the Holiday season and the show is very festive!
JUNK JUBILEE is a family business. My sister, Shelli, is my right hand girl! She keeps me sane! My brother, Paul, has just recently joined the madness. Mom has been with me from the show's beginnings in 2010, as have my teenage son, Sam, and my nephew, Seth, & his wife, Sara. Don't be surprised if Aunt Shirley is there, too, as well as my niece, Riley, and lots of cousins & friends! We have a lot of fun bringing JUNK JUBILEE to life! Please come join in the fun!!!
– Miccia Humphrey –
founder & owner Junk Jubilee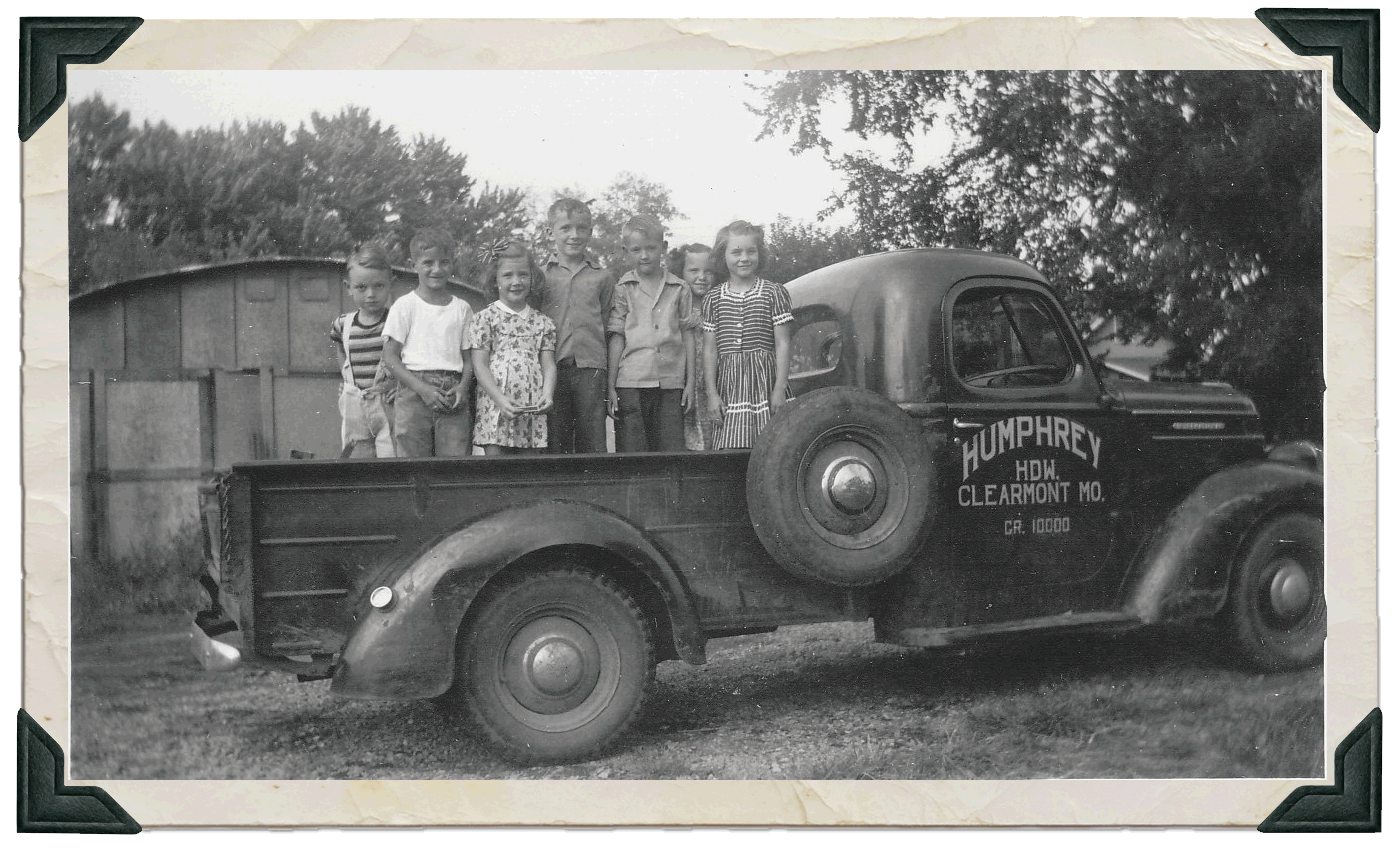 Humphrey Hardware
Clearmont, Missouri
This photo was taken around 1945. The boy in the middle is my father, William Fishell Humphrey. My great-grandfather, William Tollison Humphrey started the family business with a hardware and a gas station. A few years later, my great-grandmother, Alma Burch Humphrey, opened a lunch room which was later called the Clearmont Cafe. When I was a kid, almost every Summer morning my brother, Paul, and sister, Shelli, and I were awakened by the sounds of the air-operated tire machine & impact wrench combined with the sounds of the cafe screen door slamming shut. My grandfather operated the station during my childhood. Upon his death, my father, William Fishell Humphrey, and his brother, Jacob Humphrey took over the family business. The businesses ceased operation in 1988.